Becht: More Blitzing, Please
November 7th, 2016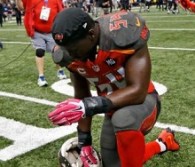 A veteran of 12 NFL seasons as a bruising tight end, Anthony Becht of the Buccaneers Radio Network was asked to assess the state of the team today.
Speaking on WDAE-AM 620, Becht, said he likes what Dirk Koetter has delivered as a playcaller.
While Becht said he's found himself yearning for more aggression, he said Koetter playing it more conservative at times is evidence of big-picture thinking and wearing a head-coaching hat with a depleted roster.
On the defensive side, Becht has a simple request for defensive coordinator Mike Smith: "more blitzing."
Derek Carr was Exhibit A of a QB being too comfortable — too often — against the Bucs this season, Becht said. Against the Falcons, it was a Daryl Smith blitz that led to Gerald McCoy's sack-strip.
Joe agrees with Becht. The Bucs invested heavily in man-coverage cornerbacks. Put them to the test with opposing quarterbacks under pressure more often. Joe suspects things might improve. Plus, without any kind of consistent four-man pass rush, the Bucs have little chance of winning games.