Alex Smith's Bucs Criticism Stunned K.C. Media
November 22nd, 2016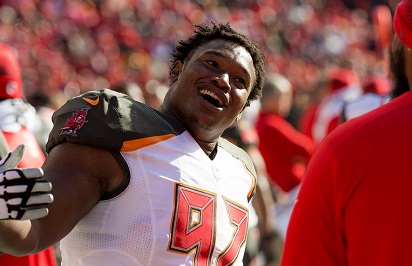 Interesting tidbit out of Joe's trip to sunny and cold Kansas City to watch the Bucs' manhandling of the Chiefs.
Listening to the official Chiefs pregame show while stuck in Arrowhead Stadium traffic, the hometown analysts were expressing their shock that Alex Smith had negative things to say about the Buccaneers' defense.
Their surprise wasn't because the Bucs defense is so great. Of course not. It was because they had never heard Smith say anything other than praise for an opposing defense.
Yes, in four seasons as starting QB for the Chiefs, the guys who follow the team daily couldn't recall one time when Smith delivered anything but love for his next opponent.
Last week, Smith said the Bucs' defense on film was "Jekyll and Hyde" and teams have "gotten after them."
It seems Smith really saw some ugly stuff from the Tampa Bay defense, enough to break four years of sticking to the everybody's-great script.
Joe wonders what Smith is thinking now? Ha!
On a similar note, Monday morning sports radio in Kansas City was hammering Smith for not being as good as America's Quarterback, Jameis Winston. The host on the team's flagship station was putting his foot down, wondering what exactly the Chiefs really got trading two second-round picks for Smith and paying him $17 million a year.