Will The Revival Continue?
October 2nd, 2016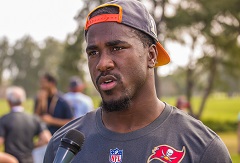 Lost in the groin-kick loss to the Rams last Sunday was Lavonte David emerging strongly from a shocking zero-tackle game in Arizona.
Against the Rams, David forced a fumble that was recovered by Chris Conte, registered a quality coverage sack of Case Keenum, and he led the Bucs in tackles for the first time this season: seven solo tackles and eight total.
David's showing generated quite a sigh of relief from Joe. First, it proved David didn't have a significant left-shoulder injury, and it restored a little bit of order to the messy Bucs defense.
Joe sees David as a guy worthy of his $10 million annual salary, primarily because of his consistency and his ability to win a game every year for the Bucs based on his playmaking skills.
Joe expects David to be blitzing often today. The Bucs have to make Denver QB Trevor Siemian uncomfortable. Those David blitzes have just missed through three games. Today would be the day for David to flashback to his Schiano-years self and get to the quarterback.