"No Setback Or Anything Like That"
October 21st, 2016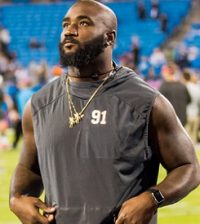 Good news and bad news from injured Robert Ayers, Tampa Bay's "naturally pissed off" defensive end.
Ayers chatted on the Buccaneers Radio Network last night and said his bad left ankle, messed up in the first half against Arizona in Week 2, is doing great.
"No setback or anything like that," Ayers said. The 31-year-old veteran added that he's had setbacks with injuries in previous seasons, including his four-week hamstring problem with the Giants last year. That was supposed to be just a two-week issue, he said.
So Ayers is progressing very well — except he hasn't practiced all week. This just illustrates how bad that ankle (sprain?) is. It's been 33 days since Ayers suffered the injury.
Ayers praised the Bucs' training staff for being fantastic and very communicative. With the Bucs facing the Raiders' high-octane attack in nine days, an Ayers return would be such a welcome sight.