Mike Smith Revives His Head-Coaching Pulse
October 13th, 2016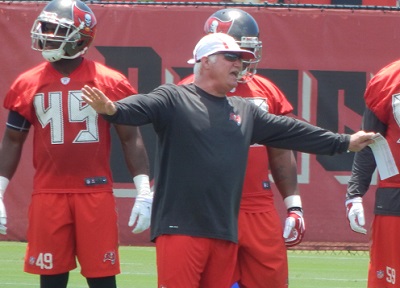 There is a downside to the Bucs' surging defense that includes no-name rookie defensive linemen getting extensive playing time.
The guy running the defense is starting to look like a steady, wise and very competent sage. And at last check, that guy, defensive coordinator Mike Smith, wants to be a head coach again the NFL after posting a whopping 66-46 record with the Falcons.
Keep in mind Smith inherited the aftermath of the Michael Vick disaster and a team in disarray. That was no problem for Smith. He took a rookie quarterback to an 11-5 record and the playoffs as a first-time head coach, and the Falcons were 56-24 through Smith's first five seasons.
Think about that 56-24 record for a minute. There's no way Smith doesn't get a second crack at being a head coach.
Yes, Joe will continue to right about the likelihood of Smith bolting after the 2016 season. It was a massive consideration before he was hired (or should have been), and is something that should be monitored.
Smith said it would take his new Bucs defense four games to settle in significantly, and that seems to be reality. How refreshing!
It's the bye week for the Bucs, but you'll find Joe glued to the Jaguars-Bears game in Chicago on Sunday. The Jags (1-3) need to win that game against the miserable Bears to keep Smith's name from becoming a hot topic in Jacksonville, where he's beloved for his work with the Jags defense from 2003-2007.