Koetter Hopeful All Injured Bucs Return Vs. 49ers
October 15th, 2016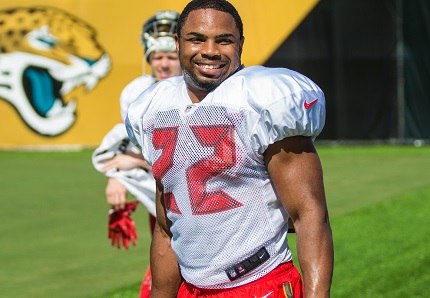 Now this should get your blood flowing on a Saturday.
No, Joe's not talking about watching college football at Abe's Place and sucking down JoeBucsFan Jason Light Ale. Dirk Koetter is talking about the Bucs getting a truckload of injured players back for their next game.
That was the strong implication from Koetter yesterday on SiriusXM NFL Radio.
"We had seven or eight guys that we're counting on to be major contributors for us that were out on Monday night," Koetter said. "Doug [Martin] is one of them. Gerald McCoy is another one – so two Pro Bowl players.

"You know, a lot of players get out of town during they bye week. Maybe go see their folks, or go back to their college and watch their college game. But all of our guys that are injured have been in there every day getting rehab and working on their bodies and trying to get back. I saw Doug down there [Friday morning]. I saw Gerald.

"We're hopeful to get, you know, all our guys that missed Monday night. We're hopeful they'll all be back for next Sunday in San Francisco."
For those counting along with Koetter, the key missing Bucs not on injured reserve were McCoy and Martin, plus Clinton McDonald, Robert Ayers, Luke Stocker and Cecil Shorts.
If the Bucs got all that firepower back in eight days against the Niners? Wow. What a shot in the arm that would be.
The scent of a 3-3 record is almost as intoxicating as the fruity essence of Bucs cheerleaders.