Ditching The Pitch Count
October 24th, 2016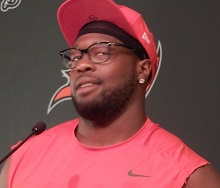 What happened to Dirk Koetter's plan to limit the snaps of Gerald McCoy yesterday?
Coming off a calf muscle injury, Koetter said last week on SiriusXM NFL Radio that McCoy would be a on a pitch count, limited work duty.
That wasn't the case. McCoy played 64 of 70 defensive snaps, surely a lot more than necessary in the blowout victory at San Francisco.
Letting America's Quarterback, Jameis Winston, get beat up at the end of out-of-reach games and having McCoy hammer away on a healing calf, man, Koetter just doesn't believe in protecting his stars.
McCoy registered his team leading third sack of the season with 3:48 remaining in the game. Rookie DE Noah Spence closed the game with his second sack of the year.