"It Hurts Really, Really Bad"
October 30th, 2016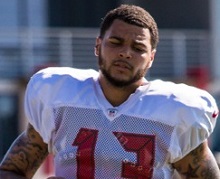 Allow Joe to take you inside the Buccaneers' locker room.
Even the crickets were silent.
Joe hasn't seen it that quiet in a long time. The overtime loss/overall choke job took quite a toll.
Mike Evans had a rough day with just four catches on 11 balls thrown his way. He blamed himself for not having enough "juice" to run down a deep ball by America's Quarterback, Jameis Winston. Evans blamed his conditioning.
And Evans said he let his team down on not winning battles on late third-down catches. Joe will add Evans is being awfully hard on himself.
Joe asked Evans to put his feelings into words.
Mike Evans: How would describe the disappointment in the locker room to the regular fan?

JoeBucsFan.com: I can't. I mean, I hate losing. My teammates hate losing. It's just, and it was that close. You know, we thought we had it won and they snuck it from us. Great game by them. But it hurts really, really bad. That's the only thing I can say.
Not Evans' best day, to be sure, and he did have a drop. However, like today, Evans is going to be double-teamed all year long. He's not going to have any easy afternoons going forward.