"Could Sense The Anger Around The Building"
September 22nd, 2016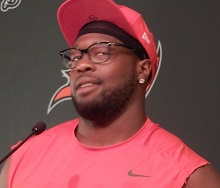 Gerald McCoy offered fans a look inside the collective minds of the Buccaneers last night.
McCoy opened up on the Buccaneers Radio Network on WDAE-AM 620 He says players are mad.
"You could sense the anger around the building, at ourselves and how we played and how we performed. And knowing that we are not as bad as we looked on Sunday," McCoy said.

"You get angry with yourself. Because it's like, 'How did we allow ourselves to play this bad when we know we're much better than this?'

"Now, perception is reality, so it gives off the perception that it's, 'Oh, it's the same old team.' And we know we're not. We just have to go prove it on Sunday."
It's all talk, of course, but Joe is somewhat impressed that McCoy gets the pain of the many fans. Most were thinking exactly that — "same old team — as the Cardinals humiliated the Bucs last weekend.
Joe hopes the Bucs are mad — as mad as the Cardinals were after losing to the Patriots in Week 1. The Bucs have more talent then the Rams. A good nasty, focused effort should be enough to beat Los Angeles and Case Keenum.