"Without Being Touched"
September 12th, 2016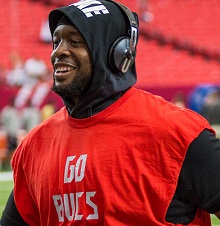 A great and simple Xs and Os nuance was verbalized this morning by former Bucs tight end Anthony Becht.
Chatting on WDAE-AM 620, Becht was asked about what stood to him from the new Bucs defense under Mike Smith.
Becht went right to the defensive line and how it set up Kwon Alexander for his monster day, 15 solo tackles and
"The key is the front four," Becht said. "I mean, the three sacks, and you saw the linebackers, they're able to hit gaps without being touched. I mean, when you're big guys up front can occupy offensive linemen and you get clear paths to make big plays, you're going to get 17 tackles like Kwon Alexander did."
Yes, D-line play isn't just about sacks and breathing on quarterbacks. Last year, the Bucs' defensive line was stout against the run, which was a big reason why Lavonte David and Alexander had big seasons. It was good to see that return yesterday with rookie Noah Spence in the mix.
And it was great to see two Jason Licht free agent defensive linemen, Clinton McDonald and Robert Ayers, be a part of that success. Licht's free agency report card sure has improved lately.