"They're Not Ready"
September 4th, 2016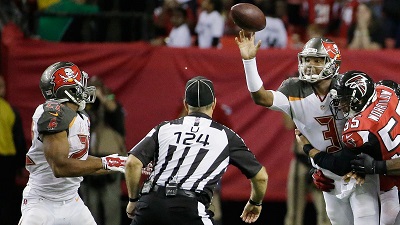 Seven days from the real deal, Buccaneers at Falcons, and civil unrest is coming out of Atlanta.
The great D. Orlando Ledbetter, the longtime Falcons beat writer for the Atlanta Journal Constitution, is down on the Falcons' preparation for opening day.
Speaking in a video on his newspaper's website, Ledbetter called it straight on what he saw from the Falcons' first teams in preseason.
"They haven't exhibited enough to say that they're ready," Ledbetter said. "They're not ready. The run game didn't do anything. Matt Ryan threw a red zone pick. There was no pass rush. All the three key points that they need to play winning football, they haven't shown they can do."
Ledbetter added that Falcons head coach Dan Quinn was "using the "we-didn't-game-plan-excuse," as well as the we're-mixing-and-matching personnel line.
So the Falcons are not a well-oiled preseason machine. Big deal. That's meaningless, much the Bucs' manhandling of the bumbling Browns, or evaluating the Bucs' preseason offense without Doug Martin pounding the rock relentlessly and setting up play-action.
Real football is near and the Bucs dumped the Falcons twice last season. Next Sunday is a very winnable game, on the heels of a trip to Arizona that might not be winnable.
Are the Bucs ready? That's the big question.