Moore: Must "Get That Extra Possession"
September 19th, 2016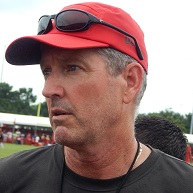 If Lovie Smith wanted to leave a curse on the Bucs franchise, then one affliction would top his priority list.
Lovie would curse the Bucs with no takeaways — because Lovie believed takeaways were always the key to victory.
Takeaways, takeaways, takeaways, that was Lovie. It seems the Bucs are still tuning him out.
So far in 2016, the Bucs don't have a takeaway through eight quarters. They haven't even forced a fumble.
Cornerback Brent Grimes dropped a ball he got two hands on in the end zone yesterday. So that was a quality "almost."
During Dirk Koetter's postgame news conference in Arizona, he noted the Bucs' -6 turnover ration for the season is bad news. Koetter called that stat the greatest barometer of a team's won-loss record over time.
Dave Moore, the former Bucs tight end and current game analyst for the Buccaneers Radio Network, noted the lack of turnovers this morning on WDAE-AM 620.
No matter how the takeaway comes, Moore said, it's critical to victory because you "must get that extra possession in the NFL."
Joe agrees, though takeaways can't become an obsession, as they were under Lovie. There's a big luck element involved. See the fumble caused by Charles Sims being too close to America's Quarterback, Jameis Winston, yesterday, and the Sims dropped pass that turned into a tipped-pass catch for Arizona.
You can't plan on luck. However, pressure on a quarterback, something the Bucs are sorely lacking, is often the catalyst for turnovers. And Joe's all in favor of the Bucs' doing everything possible to breathe on quarterbacks.
We all saw what happened last year when the immortal Case Keenum got time to throw against the Bucs on national television.