Koetter: Talks About Change In "Attack Mode"
September 7th, 2016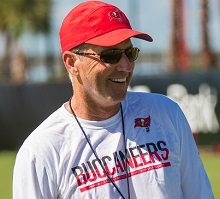 Think America's Quarterback, Jameis Winston, was a bit of a gunslinger last year?
Wait till Sunday.
Dirk Koetter was asked a question today about the progression of Jameis and how that's showing up versus last year at this time.
Koetter quickly noted that Jameis isn't hurling mass quantities of interceptions in practice and, therefore, the Bucs can be "on the attack mode a little bit more."
When new offensive coordinator/wide receivers coach Todd Monken took the job, he met with media and talked about slinging the ball downfield and quipped, "We don't need anymore five-yard plays." He added the Bucs' offense needs to have a lot of fun, much like how Carolina has fun.
Joe asked Monken today about his initial mindset and whether it's rubbed off on Koetter and will show up on the field.
Monken explained that the Bucs attacked plenty last year and it's Koetter who is all about the explosive plays. If anything, Monken said, Koetter's aggressiveness is rubbing off on him.
"Dirk likes to throw it deep. I didn't need to influence that at all. I get a lot of that from him," Monken said.
For opening day, Koetter has a very healthy stable of weapons, and a quarterback fully comfortable in the offense. The Falcons', Sunday's opponent, have major issues with their pass rush. Joe wouldn't be surprised if the Bucs come out throwing, and deftly mixing in screen passes to Charles Sims.
Remember what Koetter said was the big offensive advice given to him by his close friend Marvin Lewis, the Bengals' head coach.