Koetter Didn't Plan To Go Fullback-Free
September 5th, 2016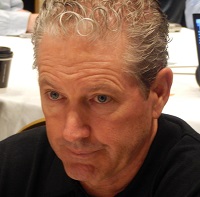 Back at the NFC Coaches Breakfast in Boca Raton this year, Joe was inhaling A-list croissants alongside Dirk Koetter, while the head coach talked about yearning for a fullback.
Koetter is one of the dying breed of coaches who likes fullbacks. He developed a Pro Bowl fullback in Patrick DiMarco in Atlanta, and he desired one for the Buccaneers' offense.
"We don't have a fullback right now, and we're going to get one. We just haven't found him yet. He might be sitting at this table right now. Who knows?" Koetter said at the NFC Coaches' breakfast.

"We're in the process of looking for a fullback. They're hard to find. In college football, there's none in college football. I shouldn't say, "None." There's a handful. There's just not many teams that use them.

"Right now, Luke Stocker has played some fullback, fullback-type things. We ask our tight ends to learn that position, all of our tight ends, but the prototype fullback is a rare breed right now."
Yes, the Bucs drafted Dan Vitale in the sixth round, but his blocking was shoddy and he got waived. Vitale is now on the Buffalo Bills' 53-man roster.
So the Bucs have no fullback. Tight end Luke Stocker will be the man, and he can't wait.
Joe is interested to see whether a true fullback finds his way onto the roster as the season progresses. It's certainly not a necessity, but Stocker is prone to injuries. An Erik Lorig type, the guy who blocked for Doug Martin in 2012, would be pretty cool about now.