How You Like Me Now?
September 14th, 2016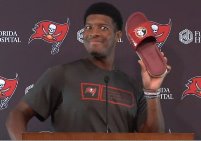 A year ago today, the haters were having a jubilee.
America's Quarterback, Pro Bowler Jameis Winston, may have had the worst game of his entire life. It came at the worst possible time: his NFL debut facing the spread-option fanatics' wet dream: Marcus Mariota, who many — including nosy Father Dungy — begged Lovie Smith to draft.
The salt in the wound is that Jameis' very first pass attempt was a pick-six. A scar he will have the rest of his life.
Here we are a year later and Mariota not only had an injury-plagued rookie season, but suffered a nasty opening-game himself Sunday. Some suggested it was the worst of the weekend. Meanwhile, Jameis, a finalist for Offensive Rookie of the Year, led the Bucs to a road divisional win over the Dixie Chicks and was named NFC Offensive Player of the Week this morning.
Data-mining Thomas Bassinger of the Tampa Bay Times took a look at the difference a year can make.
The deep ball continues to be a problem for Mariota. Against the Vikings, he failed to complete any his seven passes beyond 15 yards.
There was little problem with the deep ball from Jameis Sunday.
So for the Jameis haters who celebrated this time last year as if it were a combination of the Fourth of July, Christmas and New Year's Eve rolled into one, how do you like Jameis now?