"If I Go In There, I'll Just Screw'em Up"
September 29th, 2016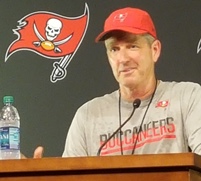 Dirk Koetter has molded rookie quarterbacks and inexperienced quarterbacks during his NFL years.
So with newcomer QB Trevor Siemian leading the Broncos into the Stadium on Dale Mabry Highway on Sunday, Joe served the coach a relevant question yesterday.
Given Koetter's familiarity with young QBs and their tendencies, would he devote more time to the defensive gameplan this week following study of Siemian and the Denver offense?
"No. [Defensive coordinator Mike Smith] and the defensive staff, they know what they're doing. If I go in there, I'll just screw'em up," Koetter said.

"Those aren't the type of things we talk about. We talk more about communication issues, strategy-type things, but, you know, as far as scheme, those guys know what they're doing."
So there you have it. Nobody's going to accuse Koetter of being a micromanager.
And the defensive screwups seen to date through three games? Well, it's pretty to point an accurate finger when it comes to the responsible coach.