Calling Dexter McCluster
September 2nd, 2016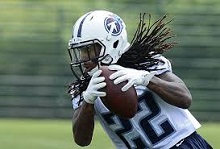 Whaddya know. There's a talented former Pro Bowler on the street who can run the ball, catch the ball out of the backfield or as a wideout, and return the ball.
And the Bucs have a need for that kind of guy.
Joe's talking about 28-year-old Dexter McCluster, the pride of Largo High and a second-round pick of the Chiefs in 2010.
McCluster was cut by the Titans, where former right hand man to Jason Licht, Titans GM Jon Robinson, is the new sheriff in Tennessee and has been cleaning house.
McCluster hasn't been special the past couple of years, but the Bucs don't need special. They need competence and depth, which McCluster should be able to provide.
Considering McCluster might have plenty of gas left in his tank, what would be the harm to get him in the building for a workout?