"Little Light On The Back End"
September 5th, 2016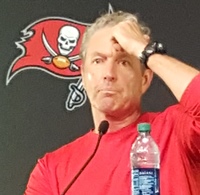 No, Dirk Koetter wasn't talking about extremely thin women at One Buc Palace this afternoon.
The head coach was being his admirably candid self at the podium following practice.
Joe applauds Koetter for the being the head coach for the Average Joe. The spin stops with Koetter. He shoots straight because he doesn't know how to huddle in corners and feed a bunch of censored baloney to the media.
And he shouldn't know how to plot and plan like that. It's silly to invest all that mental energy into peddling nonsense, because thinking fans can see through regardless. Koetter knows his time is better spent elsewhere.
Coaches who do like to spin and overly censor and play games with media essentially are playing games with fans. Media is the connection with fans, the good people who line the pockets of players and owners and coaches.
Why con the good guys? The fans.
So amen to Koetter for saying today about his receiving corps: "It's no secret that we're a little light on the back end of that wide receiver group."
You wouldn't hear that from 90 percent of NFL coaches. It's no real knock on Evan Spencer, who landed the No. 5 wide receiver job. It's just reality.
The No. 4 receiver? Special teams captain Russell Shepard? Koetter previously and publicly has said he doesn't think of Shepard as a receiver but Shepard was forcing him to change his mind.
As for that receiving corps, Tampa Bay's only Hall of Fame voter, JoeBucsFan.com columnist eye-RAH! Kaufman, believes the Bucs will add two new WRs to the roster before the season is finished. Joe would bet on one. Hopefully, all fingers crossed, the Bucs won't need any.
Regardless, props to Koetter for respecting fans with his straight talk.