Birthday Present Coming For Brandon Myers
September 2nd, 2016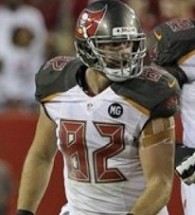 Trying to make a roster as a veteran tight end is a good situation when Tweety and erratic Austin Seferian-Jenkins is in the mix.
So Joe is confident veteran Brandon Myers will get great news for his 31st birthday on Sunday. He'll make the Tampa Bay roster and enjoy a paycheck for his eighth NFL season.
After all, it was ASJ the Bucs were exposing to injury during the final preseason game Wednesday. It was ASJ chosen to put his body on the line against soon-to-be baggage handlers, gym teachers, Hooters cooks, grad students and bouncers.
Myers and his 192 career catches were on the bench.
A Raiders sixth-round pick in 2009, Myers is easily forgettable for Bucs fans. He hasn't done much since being one of the key guys signed in March 2014, part of the giant wave of early cash spent when the free agency dinner bell rang that year.
But Myers can block and catch, and given the presence of ASJ, plus the Bucs being a little banged up on the offensive line and Luke Stocker known for being a little fragile, Joe believes Myers is a lock for his third Tampa Bay season.