Big Guns Still Out For Bucs
September 29th, 2016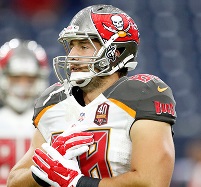 The second day of Tampa Bay practice leading up the Bucs-Broncos clash on Sunday brought more bad news.
Luke Stocker, Robert Ayers and Doug Martin haven't practiced since prior to the Week 2 clash in Arizona. Add backup wide receiver Cecil Shorts to that mix.
No huge surprise on Martin, but it was unclear whether Stocker and/or Ayers might test their ankles or be nearly ready.
The pass rush has been impotent since Ayers was lost midway through the Arizona game. And Stocker has been a significant loss in the run game. The Bucs' leading rusher, is popping just 3.4 yards per carry.
It's very rare for a significantly injured player to miss practice on Wednesday and Thursday, and then play on Sunday.