Jameis Talks Talib
September 28th, 2016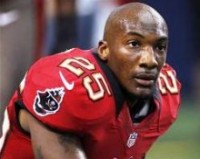 The hardest of hardcore Bucs fans will remember how helmet-wielding, cabbie-slugging, Adderrall-popping, coach-cussing, referee-charging, pistol-friendly, granny-hassling Aqib Talib absolutely owned Vincent Jackson when the Patriots belted the Bucs 23-3 in 2013.
The details were stunning and V-Jax was a stud back then.
Talib has performed like a Hall of Famer ever since, and he owns Broncos Super Bowl ring. He'll carry that with him to the Stadium on Dale Mabry Highway on Sunday to face the Bucs.
The Broncos are undefeated. Talib already has a pick-6 this season, and America's Quarterback, Jameis Winston, knows all about him.
"He is as advertised," Jameis said when asked today what Talib looks like on film.

"You know, he's a great guy, just his knack for the ball. Man, he has great ball skills."
Joe is looking forward to Talib's arrival on Sunday. He's a fun guy to watch performing on the field.
He's also a notorious trash-talker and is just the kind of guy to test whether the new Mike Evans, the mature Mike Evans, can maintain the razor focus he's had through three games and preseason.