"You'll See Some Changes In The Depth Chart"
August 13th, 2016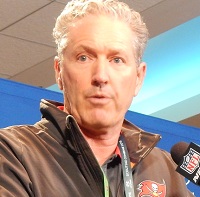 Dirk Koetter wasn't calling out players publicly today, good or bad.
But it's coming.
Koetter told media at One Buc Palace, "You'll see some changes in the depth chart" reflected for in next Saturday night's preseason game in Jacksonville.
There were winners and losers coming out of Thursday night in Philadephia, Koetter said.
The next depth chart issued by the Bucs, per NFL Media guidelines, likely will be out on Tuesday. As Joe has noted previously, while the on-paper depth chart is rather meaningless, changes in the depth chart from Wee 1 and Week 2 of the preseason can be quite telling.
The only thing clear to Joe is Kenny Bell taking a nosedive.