What Was Kwon Alexander's Punishment?
August 22nd, 2016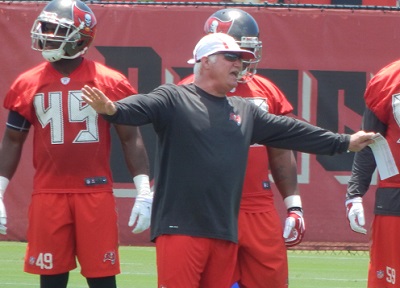 After a season full of brain-dead penalties, a year in which the Bucs flirted with the NFL single-season record, there was too much bang-your-head-against-the wall stuff early against the Jaguars on Saturday.
Kwon Alexander's first-quarter, first-down personal foul on Blake Bortles was dreadful.
The Bucs sent six men at Bortles, including a delayed blitz by Brent Grimes. Mission accomplished. Bortles froze when he realized he couldn't step up in the pocket smoothly and scrambled left.
Bortles was heading out of bounds and Kwon drilled him.
Joe will turn it over here to Jaguars color commentator Mark Brunell, the former NFL quarterback for 17 seasons and five teams.
"That makes no sense. There are foolish penalties, but there are really stupid penalties, too," Brunell said of Kwon's illegal hit.
That penalty came seven minutes into the game. But the Bucs already had endured a false start by Demar Doton and a return-killing block in the back by linebacker Jeremiah George on special teams.
Dirk Koetter said this kind of stuff was going to end. Defensive coordinator Mike Smith led Falcons teams that were among the least penalized in NFL history. Smith also spent two days a week for 10 weeks during last season working with NFL officials in New York, Smith told Sirius NFL Radio recently.
It was part learning, Smith said, and part getting access to game film and camera angles when he was unemployed.
The point is Smith is a master at getting a team to play clean football. Joe wants to know how Kwon was dealt with after that play, not necessarily in the game, but afterwards.
Something has to get through to the Bucs if they want to win more than they lose. The Bucs don't have enough talent to overcome a season full of dumb penalties.