"We Gotta Make The Damn Field Goal"
August 20th, 2016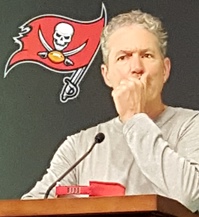 God bless, Dirk Koetter.
He is a regular guy who worked his ass off to get an NFL head coaching job at 57 years old, but he hasn't lost his regular-guy ways.
Koetter calls it straight. Early in his postgame news conference tonight, without being asked, Koetter expressed his frustration with rookie kicker Roberto Aguayo. The second-round pick has missed three kicks in two preseason games. Against Jacksonville tonight, Aguayo shanked a 32-yard field goal on the opening drive.
Koetter was asked about a "slow start" tonight and fired back.
"I wouldn't call that a slow start," Koetter said. "We gotta make the damn field goal."
Asked if he was worried about Aguayo's shaky leg, Koetter kept it real.
"I wouldn't say worried, but this is the NFL, man," Koetter said. "They're paid to make kicks. He knows it. I know it. Everybody knows it. So, I mean, it is what it is."
Aguayo has time to fix his woes, but the pressure is on long before anyone thought it would be.