Dungy Unprepared; Stories Stuck With Barber
August 8th, 2016
Where else would the Custodian of Canton have been this weekend, when Father Dungy, Eddie DeBartolo and six others were immortalized in the Pro Football Hall of Fame? Today, eye-RAH takes you inside the historic event.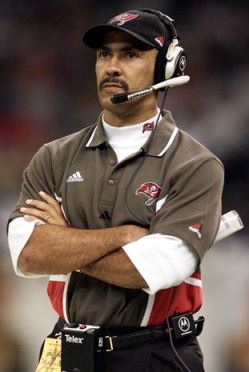 By IRA KAUFMAN
It was quite a weekend in Canton, even though it ended so miserably for all those Green Bay fans hoping to see their Packers take on the Colts.
This was my third trip to the mecca of pro football and there were plenty of highlights before the Hall of Fame exhibition game was canceled — another black eye for a league that has absorbed so many body blows in recent years.
Festivities began Thursday with the Gold Jacket dinner, where I was seated with fellow members of the Hall of Fame Selection Committee.
The roll call of Hall of Famers is electrifying — as they take the stage in various degrees of health. Jerry Rice always runs up the stairs like he's taking off for a slant pass from Joe Montana. Others ambled up to the stage displaying the effects time in the trenches.
Usually, the last immortal to be announced is Jim Brown, but the best player in NFL history didn't attend the ceremony. (More on Mr. Brown in a moment.)
Crumbling Before Cornerstones
Tony Dungy thought he was ready for this moment, but for once, the man who needed only one year to turn around a wretched Bucs franchise was caught unprepared.
As Dungy strolled through the gauntlet, the sight of Derrick Brooks and Warren Sapp nearly brought him to tears. Two decades have passed since Dungy looked at his two future cornerstones and challenged them to be his Jack Ham and Joe Greene.
Ed DeBartolo felt the same emotions as he walked past Rice, Montana, Steve Young, Charles Haley and Ronnie Lott.
Nothing prepares you for that moment when it all sinks in — a lifetime of personal memories in the ultimate team sport.
On Friday, all living members of the Class of 2016 were brought to the makeshift media center, which is housed in a high school next to the Hall.
There were decent crowds around Dungy, DeBartolo, Orlando Pace, Kevin Greene and Marvin Harrison, but the cameras were stacked three-deep around Brett Favre's table well before he appeared.
Let's be honest; Favre dominated the weekend inducting eight new members of the Hall. Green Bay fans wearing No. 4 jerseys were everywhere in Canton, and it was no coincidence Favre was the closing speaker at the induction ceremony.
The Storyteller
On Friday night, DeBartolo threw a party for 1,200 of his closest friends at a local country club. Dozens of former 49ers showed up, along with Sapp and Brooks, to hear Huey Lewis and The News and Boys II Men provide the entertainment.
Sitting in the patio area, taking it all in, former Tampa Mayor Dick Greco sat with his wife. From the Brooks-DeBartolo school to his new restaurant, Sacred Pepper, DeBartolo has made Tampa his adopted home and earned the gratitude of civic leaders.
Limousines pulled up in front as celebrities kept arriving. Then a limo door opened and out stepped Jim Brown, clutching a cane and walking gingerly.
Everything stopped. Servers froze, drinks in hand.
No more chatter.
Yes, Jim Brown has that kind of presence, even among football royalty.
If you watched the induction ceremony, you know Favre's 36-minute speech was mesmerizing. Overcome by emotion, the noted gunslinger stopped three times to reload his thoughts as he talked about a demanding father who always pushed him to do better.
Before the speeches began, I mingled in the crowd gathering to support Dungy. Former assistants Lovie Smith, Herm Edwards, Jim Caldwell, Leslie Frazier and Joe Marciano were there, along with Bucs co-chairmen Joel and Bryan Glazer, and Bucs chief operating officer Brian Ford.
John Lynch, Ronde Barber and Paul Gruber showed up while Brooks and Sapp took their seats on the Hall of Fame stage.
"Coach Dungy's best stories are the ones that weren't football-related," said Barber, who will be eligible for the Hall in 2018.

"They were the stories about life. He had a way of always humbly making a point. His best moments came in the meeting room, when he would turn off the film and tell you a life story."
The Malcolm Bond
The Dungy section was dominated by players and associates from his seven years with Indianapolis, where Dungy earned his Super Bowl ring. It's clear there is still lingering resentment toward the Bucs for the way they handled his firing after the 2001 season.
That aside, in the middle of his induction speech, Dungy referenced Malcolm Glazer in glowing terms. It is obvious these two men shared a special bond. There's no doubt Malcolm would have been very proud to see Dungy's bust unveiled.
I've got another trip to Canton planned for next August if John Lynch is part of the Class of 2017. He's on the Hall of Fame doorstep, and if things go well in a Houston meeting room in February, Lynch will join Brooks and Sapp in transforming the Tampa-2 into the Tampa-3.