"That Was A Sack! That Was A Sack!"
August 2nd, 2016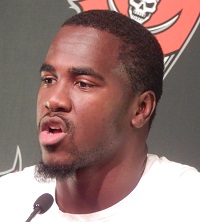 A great practice video was released by the Buccaneers that illustrates one challenge of assessing training camp work.
The Bucs are in full pads and Lavonte David is "Mic'd Up" and you can see him blitzing and celebrating a non-sack/sack of America's Quarterback, Jameis Winston. (Full video here.)
David fires in up the A-Gap and is met by Joe Hawley. David fights through (was Hawley really going all out after engaging?) and lets up a bit in front of Jameis as the ball released. "That was a sack! That was a sack!" David yelled jubilantly.
However, was it a sack? Does Jameis ditch the ball earlier in real action after recognizing what was an all-out blitz? And in a real game, what does Hawley do as David rolls off initial block?
Regardless, Joe's biggest takeaway from this is how pumped up David is to be blitzing, something he didn't do as often under Lovie Smith. Blitzing from all angles definitely is part of this Mike Smith defense. Culture shock is coming for Bucs fans — and the NFC South.