"Taken A Piece Out Of Them"
August 29th, 2016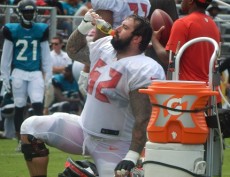 Center/guard Evan Smith talked to Joe today and was adamant that players giving "in-game" feedback to coaches is critical.
That's why Smith was all jacked up and barking at Dirk Koetter on Friday night against the Browns. Smith saw what the Bucs' up-tempo offense was doing to the Cleveland defense. So he was yelling, "Stay in it! Stay in it!"
Smith said he wanted Koetter to remain in up-tempo "because I could tell that their defense was kind of gassed from those 10 plays."
He wanted another 10 plays — he got a lot more than that — to bury the Browns.
Smith likes up-tempo for the Bucs since early tempo can completely wear out a defense in the fourth quarter — "because you've already taken a piece out of them."
Smith, considered a pass-blocking-first center when he arrived in Tampa, is no stranger to tempo after playing with the Packers. And, Smith was the guy who spilled the beans on national radio that Lovie Smith's initial offense, the Jeff Tedford offense, was going to be "up-tempo."
As well as it's looked in preseason, Joe doubts the Bucs will do a lot of "up-tempo" against the Falcons on opening day.
First, Koetter wants to run the ball, which is not well-suited to tempo. And Atlanta's weak defensive line is primed to pounded by the Bucs' run blockers. Second, a fast pace requires precise communication, something that will be very difficult on opening day in the cauldron-like Georgia Dome.