Off Night
August 20th, 2016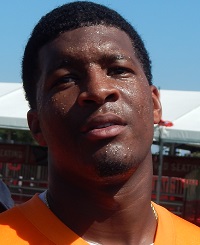 The first throw of the night in Jacksonville by America's Quarterback, Jameis Winston, was hot garbage, low and uncatchable to an open Vincent Jackson on the right sideline.
His night didn't improve quickly.
Joe loves Jameis, but it was darn ugly to see Jameis get off to an 0-for-6 start. There were more bad throws and out-of-sync moments. He just wasn't sharp, and he also foolishly exposing himself to hits on scrambles. Heck, Jameis even took a late hit that drew a personal foul.
To close the opening drive, Jameis escaped trouble, flushed out to the right and nearly threw a red-zone pick on a foolish pass. That was right before Roberto Aguayo's missed 32-yard field goal.
Jameis finished 3-for-10 for 28 yards, one touchdown and one interception in about 23 minutes of work. It was a nice TD throw to Mike Evans, who has been solid in two preseason games.
It's preseason, and Joe is not concerned about Jameis. But a start like that just can't happen.