Not Buying The New ASJ Love
August 21st, 2016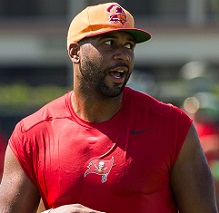 Joe ran directly into blunt objects this afternoon after listening to Dirk Koetter.
The Tampa Bay head coach was selling a revival of Austin Seferian-Jenkins.
A little improvement against second-teamers in practice last week, a strong catch last night against future mattress movers, Hooters cooks, limo drivers and grad students, and all of a sudden Koetter has announced ASJ is back on first-team duty.
Yes, Koetter said ASJ's improvement means shared first-team reps with Cameron Brate this week.
First, for those paying attention, Joe must point out that it is Luke Stocker who gets the most tight end reps for the Bucs — in real games and with the first team.
Second, there was a pile of first-team time for tight end Brandon Myers this week in joint practices with the Jaguars, and in last night's preseason game. Unless, Joe is seeing things, Myers was the third tight end in the preseason game last night, with ASJ at No. 4.
Joe really isn't buying what Koetter appeared to be selling. It smells like competition talk — and tactics — to kick Brate in the ass for juggling away a catchable ball last night leading to an interception by America's Quarterback, Jameis Winston. And maybe, just maybe, it's a last gasp to motivate ASJ, or showcase him to be traded.
Just a few days ago, Jameis unloaded on ASJ in practice in Jacksonville. That definitely was no mirage.
Sure, Seferian-Jenkins is a talented guy who can help the Bucs in the red zone if his head is screwed on right and his body is available, but he's unreliable at best and of limited use in the running game.
Joe simply can't buy into the inevitable media-fueled ASJ bandwagon that will reach warp speed by Monday night.