Koetter: "Not Nervous, Just Pissed"
August 11th, 2016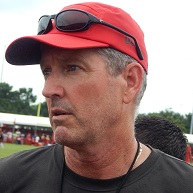 Hey, kudos to Dirk Koetter for his first ever game as an NFL head coach.
So how did it feel, Coach?
Joe asked Koetter in Philadelphia tonight whether he had any strong emotions leading up to today's historic game.
"Not necessarily before the game, because preseason is not necessarily real," Koetter said. "You know, I didn't get quite the same butterfly feeling that I get for a regular season game. But when we got punched in the mouth like we did to start the game, I kind of just got pissed off, to be honest with you. Not nervous, just pissed, because we can't play like that and expect to win."
Yes, Koetter was very down on Kenny Bell's fumble of the opening kickoff, and he didn't like the penalties and the overall special teams play. "Five turnovers and nine points, you can't win like that," Koetter said. "Other than no-huddle, there was really nothing else good about the offense."
Joe asked Koetter if how he felt about transitioning from playcaller to playcaller and head coach.
Interestingly, Koetter acknowledged  "I'm in a learning curve on that" and said the evidence is the Bucs scoring nine points.