Kickoff Returner Alterraun Verner?
August 1st, 2016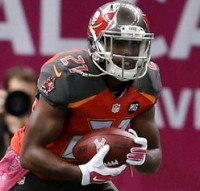 Cornerback Alterraun Verner had a different role today, and it wasn't on Lovie Smith's scout team.
Verner was working as a kickoff returner, and Joe will say he looked pretty solid.
Joe talked to Verner after practice about he returning skills/desire. Verner's pumped up for the opportunity, one that isn't new to him.
"I did it in high school and a little bit in college. And actually, the one time I did it in the NFL was when [new Bucs special teams coach] Nate Kaczor was my special teams coach at Tennessee," Verner said. "So he knows that I like to go back there and that I can. You can never have enough people to do it in an emergency.

"It's always fun because you get the ball in your hands."
Verner, 27, noted he only had one interception last year, and it's great to get more live time working on running with the ball.
In 2013, Verner had one punt return with the Titans for 11 yards, and a kickoff for 17 yards. At UCLA, Verner returned some kicks/puts in 2006 and 2007.
Joe wonders if the returner look at Verner has anything to do with the Bucs thinking some of the guys they had in mind to possibly return kicks might not make the roster.