It's The Browns
August 26th, 2016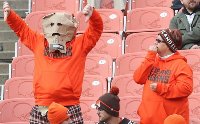 Amid all the giddy, beer-soaked excitement over how the Bucs looked in the first half tonight, and how America's Quarterback, Pro Bowler Jameis Winston, shredded the Browns defense, Joe offers cautionary, sobering words of caution.
It's the Browns.
There is no more sack sad organization than the Browns. They almost made the Bucs looked good while the Pewter Pirates have been mired in a five-year rut of finishing in the NFC South basement.
The Browns are horrid. Their owner listens to homeless people for draft advice when his private company is not being investigated by the feds for wrongdoing.
How rotten are the Browns? They turned to Redskins reject Robert Griffin III for salvation. And before that, Stewart McClown of all people!
Can you imagine?
Yes, the first team of the Bucs should throttle sloth like the Browns. But let's not kid ourselves. The Browns are not the Stinking Panthers.
But it was sure fun to watch and dream of what might and/or could be.