"I Don't Want To Say It's A Nasty Tone"
August 5th, 2016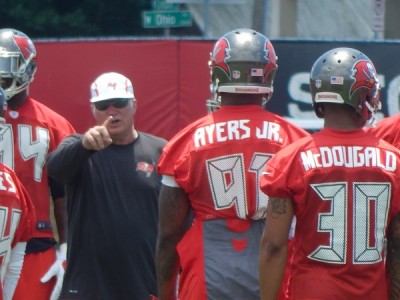 Bucs defensive coordinator Mike Smith referenced real football players yesterday.
He didn't say much, but he said enough. The subject came up when Smith was asked about veteran defensive end Robert Ayers, a big-money, free-agent addition in March.
Smith said he's all about what Ayers is all about.
"I love Robert Ayers' attitude that he takes. He is a man's man. Playing on the defensive line, you've got to have guys that are very tough. And he's setting a tone," Smith said on WDAE-AM 620. "I don't want to say it's a nasty tone. But it's a man who plays football the way it's supposed to be played. He's going to be a guy that's going to help us lot in a number of areas. Not only on the outside but on the inside."
Umm, did anyone every hear (or see) anything like this from Michael "Ghost" Johnson during his reign of terror on Bucs fans? Nope.
It's not the first hint of Ayers getting noticed for his edge. Demar Dotson is thinking about hitting the guy, and Joe has written previously that Ayers is a commanding locker room presence behind the scenes. Exciting stuff for Bucs fans, especially if Ayers can lock down 9 1/2 sacks like he did last year with the Giants.
Enjoy Smith's full WDAE audio below.