Hargreaves Practices As Starting Outside Corner
August 22nd, 2016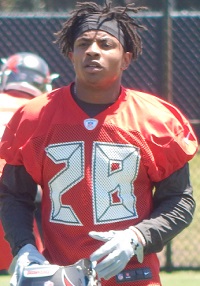 Not the happiest of days for Alterraun Verner.
It seems the Bucs were extra wowed by the two acrobatic interceptions for rookie Vernon Hargreaves on Saturday night in Jacksonville.
Per Dirk Koetter, Hargreaves practiced today as a first-team cornerback. Previously, the No. 11 overall pick was getting nearly all of his first-team work at nickel cornerback.
So now what?
Clearly, Brent Grimes is the top dog at outside cornerback, not Hargreaves or Verner. If Hargreaves starts at outside cornerback Friday night against the Browns and looks comfortable, Joe will have to think Hargreaves nailed down that job.
Verner, however, didn't play well at nickel last year, and second-year man Jude Adjei-Barimah has had a good training camp there to date.
There's also the matter of Verner's nearly $7 million for this season.
Interesting times in the Bucs' secondary.