"We Have All The Pieces In Place"
August 22nd, 2016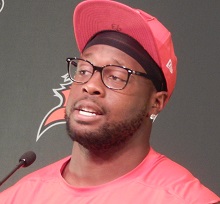 Gerald McCoy recently talked about winning and coaching changes.
Of course, Joe was listening as McCoy hopped on PFT Live on NBC Sports Radio with ProFootballTalk.com guru Mike Florio.
McCoy says the Bucs are a well-stocked cupboard and primed to stop losing.
"We have all the pieces in place, I believe." McCoy said.
He want on to say every NFL team has a weakness, but "the good teams and great teams" have a way of making up for deficiencies by playing as a unit.
Asked about how this year is a different animal than the past five consecutive NFC South basement finishes, McCoy said it's about teamwork.
"They're making us play as a unit," McCoy said of Dirk Koetter and defensive coordinator Mike Smith.

McCoy noted Smith's way takes players to another level.

"He loves the game so much. He makes you want to learn the defense and want to play harder, and really go out there and win," McCoy said.
Of course, those stuck in the past can try to read between lines and compare this kind of talk to the Lovie Smith era. Joe's too tired for that today.
Joe does know, thought, that the Bucs are light on excuses this season, except for it being Year 1 of a new regime, which was the case in three of the past seven seasons.