Falcons Watch: 16 Days
August 26th, 2016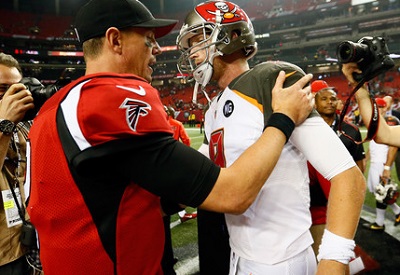 They're singing a very familiar tune in Atlanta, as the Falcons prepare to host the Bucs in the first real football game of 2016.
It's a song Bucs fans know well.
The sad Atlanta pass rush, anchored by 2015 first-round bust pick Vic Beasley, who was moved from defensive end to linebacker this offseason, is up to its old tricks.
It's anemic.
"Nah, it ain't working right now," Beasley told BSPN after last night's preseason game. "I have to go to the film room, go to the practice film, and try to critique some thing. It is (frustrating) at times. I just know I have to keep working."
Joe was sad watching that game. Former Bucs first-round fail Adrian Clayborn, still with the Falcons after his historic loaf against the Bucs last year, was injured. He might not play opening day against Tampa Bay. That's bad news for Bucs fans.