Martin's Message For The Bubble Wrap Crowd
August 17th, 2016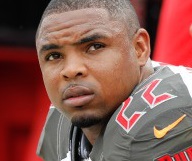 Loads of Bucs fans out there want to see Doug Martin carrying a clipboard all through preseason.
They can't bear the thought of losing him in a meaningless game.
After today's Bucs-Jags joint practice in Jacksonville, Joe asked Martin to address these fans' concerns.
In short, he truly feels he needs the preseason work.
"Practice reps and live reps are completely different," Martin said. "It's a way to measure yourself on where you stand in the game after the offseason. Do you need more conditioning? Do you need to get in the weight room a little more? Stuff like that.

"Don't worry. I've been playing the game since my freshman year in high school, and I know preseason reps help me. They do."
Martin didn't get banged up at all today. So the Tampa Bay area can exhale.
In fact, both teams behaved and followed the rules of practice, which included no tackling to the ground, though Joe saw defensive end Will Gholston apparently forget on one play. The physicality was jacked up a bit against the Jags, but not enough to make Martin want to sit out Saturday's preseason game in Jacksonville.