Donovan Smith And "Enough Was Enough"
August 28th, 2016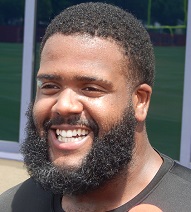 For some reason, the spreadsheeter crowd and former Bucs rockstar general manager Mark Dominik have little faith in Bucs left tackle Donovan Smith.
Joe just doesn't get it.
In Smith, Joe sees a guy who had a great rookie year. He played every snap and was a key cog in an offensive line that spearheaded a dangerous two-man rushing attack and allowed among the fewest sacks in the league.
Smith was at least good. And for a rookie left tackle, that's great!
Also, Smith has the raw talent, the size and the feet. He's leaner this year but is still 6-6, 330 pounds, a pure nimble manbeast.
Yesterday, Dirk Koetter singled out Smith for being a dominant force in the Bucs not allowing a sack to the Browns on Friday night. "Donovan [Smith] had his best game from a technique standpoint," he said.
Early last season, Koetter called Smith was a "jackpot" score in the second-round of the draft.
Joe has seen nothing to think otherwise. Shame (again) on the stats nerds.
Koetter added that a whopping 40 early plays by the starting O-line cut their night short Friday. "Enough was enough," he said. They were expected to come out and play after halftime but didn't.