Training Camp Day 5 – Notes & Observations
August 1st, 2016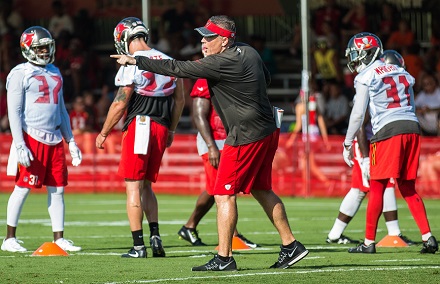 Lively second day in full pads at Buccaneers training camp. Grab a cold one and/or a footlong; Joe's got your need-to-know.
*Loads of special teams work today. Fun watching coaches toss bouncing balls toward Adam Humphries and others to work on picking up wacky bounces.
*Alterraun Verner getting time at kick returner and looks pretty good. (full story on JoeBucsFan.com home page).
*Mike Glennon with a rough overthrow of Mike James.
*Bucs working through drills with soft coverage. Eleven completions in a row (seven America's Quarterback, four Glennon). Very crisp sharp stuff.
*"I've Got the Power" by SNAP has the players moving between drills. Could this be Noah Spence's theme song? Or Rudy Humphries?
*Lots of 1-on-1 work — pass rushing vs. pass blocking. Always great to see the hogs going at it in a controlled setting. Joe didn't catch a lot of the first session, but saw enough to know Demar Dotson is stout. Looks like a revived man this training camp — so far. First session ended with Clinton McDonald and Joe Hawley getting very chippy at the end. Angry ending that led to a heated gathering of O-linemen and D-linemen. Noah Spence and Kevin Pamphile had a little shoving session.
*Sad to see rookie fifth-round pick Caleb Benenoch on crutches and in a boot. The 6-5 tackle/guard out of UCLA is in a tough spot, especially after he had to miss time in the spring due to goofy NFL Pac-12 rules.
*11-on-11: Jameis with a quick slant to Luke Stocker.
*Doug Martin runs right through a huge hole — gargantuan. Major celebrating by the O-linemen after that one. Hawley was pumped, slapping hands and accepting congratulations.
*Jameis to Cameron Brate. Complete with Bradley McDougald all over him 10 yards down field.
*Back to Brate again over the middle.
*Glennon complete to tight end Brandon Myers. Defensive end Howard Jones in coverage 10 yards down field. Mike Smith's defense is not traditional.
*Lots of d-line stunts. Clinton McDonald chases Jameis out of pocket despite being held by Joe Hawley.
*Ah, one of Joe's all-time favorite songs, "Unchained," blares from the loudspeakers. God bless Eddie Van Halen.
*SACK! Kwon Alexander and Gerald McCoy team up. Of course, Jameis does not get hit in practice, but this would have been a nasty sandwich. After practice, Jameis noted McCoy is giving the O-line fits.
*Tipped pass. Joe didn't see who, but Robert Ayers was in quickly off the right edge on Donovan Smith.
*Camp meat alert! Nice connection from No. 3 QB Ryan Griffin to wide receiver Andre Davis, but in real action Griffin would have been hit on his release.
*More special teams. Nice coverage work from linebacker Josh Keyes, who was with the last year.
*OK. Now it's back to another session of 1-on-1s, O-line versus D-line. Robert Ayers has some great inside moves.
*Sackless George Johnson schools Pamphile, but an immediate rematch goes to Pamphile.
*McCoy is lightning quick on Marpet. Wow. Cannon-like.
*Clinton McDonald getting strong push on Evan Smith.
*Gosder Cherilus seems to like to play nasty and on the edge of the rules.
*Noah Spence literally beat undrafted rookie Leonard Wester like he wasn't even there. Quick swim move from right edge.
*Johnson gets loud love from defensive line coach Jay Hayes after beating undrafted rookie tackle Kelby Johnson.
*Uh, oh. Welcome to the big leagues Noah Spence. Donovan Smith owned him and put him on his butt. Just too strong a punch.
*Akeem Spence too much for undrafted rookie Joel Hale.
*Marpet with a clear win over McDonald.
*Dotson owns Jacqueis Smith. Stone wall. A minute later, Smith attempts a rip move on Dotson and gets thrown to the ground. Again, Dotson was a monster today.
*Howard Jones jumps off sides, then Jones beats undrafted rookie Leonard Webster.
*Back to 11-on-11: Kwon Alexender is in the backfield on two consecutive plays. Once to catch Doug Martin running left, and then at the line of scrimmage to meet Martin running inside.
*Chemistry? Sharp quick slant to Mike Evans from Jameis.
*A standup rush from Noah Spence!
*Jameis to Russell Shepard on a slot route in the seam. Complete! 15 yards.
*Wide receiver Evan Spencer with back-to-back strong grabs from Jameis and Glennon.
*Mike Evans along the right sideline drops a Jameis pass that was right in his breadbasket. Jameis scrambled a bit in the pocket and found Evans wide open about 30 yards down field. To be fair, it was a bit underthrown. Still, when the ball hits you in the gut, that should be a catch. Dirk Koetter has stated that Evans is motivated by reading all the reports of his drops. Dude must be unable to sleep at night.
*FUMBLE! Jacquies Smith strips Charles Sims. Great pursuit by Smith.
*This Jonathan Krause, late of the Patriots and Eagles, who the Bucs were "awarded" (?) recently has made a splash in practices. Today, he hauled in two catches while laying out for the ball. Impressive.
*Kwon flashes again on Mike James.
Bucs are back on the practice field Wednesday. Please check out all kinds of stuff from Joe all day every day.