Big Vitale Learning Curve On Pass Blocking
August 26th, 2016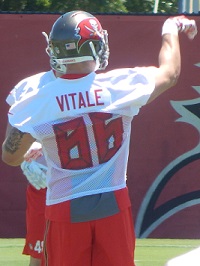 If you want to play in an NFL backfield, then you better be able to pass block.
Bucs rookie sixth-round pick Danny Vitale has struggled with that.
Joe saw it on the game film against Jacksonville, and Vitale knows where he needs to improve.
"The No. 1 thing, I'd say, is closing the distance between me and a linebacker. Getting my hands on him and striking him, not catching," Vitale told Joe this week.

"You know, in college you can get away with just catching a guy and kind of dropping your butt and not letting him move you. But at this point, here, they're going to bull rush you, they're going to move you back. So you got to get up and strike them. That's what I'm trying to adjust to."
Vitale added that a "no bull rushing" rule at practice has made his learning curve steeper, and he said he must improve on giving pass rushers a more square "pop" and not get caught leaning.
Joe realizes many fans thought Vitale would be a hidden gem of a tight end/fullback when he was drafted. But Joe thinks Vitale is much more of a project. Ten catches and flashes of strong blocking and consistent special teams play would be a great season for the rookie.