Saturday Training Camp Notes & Nuggets
August 13th, 2016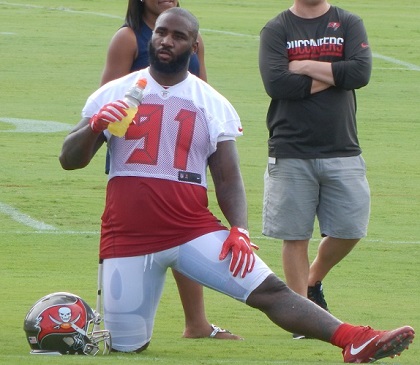 Training camp forges ahead and Joe was here at sunny One Buc Palace taking notes. Here are your highlights:
*Russell Shepard with a diving catch off the left sideline from America's Quarterback, Jameis Winston. For the "Jameis is inaccurate" crowd, Jameis was spot-throwing. He released the ball well before Shepard broke for the ball. If there is one offensive player who has really jumped up depth chart in training camp, it is Shepard. He has gone from being a virtual invisible special teams player to a legit receiver.
*Vincent Jackson in back of the end zone from Jameis, just getting toes down while falling out of bounds. Think of the TD those two hooked up for in New Orleans last year. Virtual carbon copy.
*Lotta AC/DC this morning. Gotta keep the boss (Jason Licht) happy.
*Plenty of special teams work, but Joe learned this was pre-planned, not a result of the mess seen on Thursday night.
*Floppy hat duty for Vernon Hargreaves (see home page story), and guard J.R. Sweezy is back from California and back on floppy hat patrol. Still no word when he'll practice for the first time as a Buccaneer.
*Doug Martin put the ball on the ground. (Joe's waving at you, Phil Mushnick.)
*Guys are making some sick grabs today. Cameron Brate highlight show surely coming to Buccaneers.com.
*Defensive tackle A.J. Francis (who Miko Grimes likes) picks up a fumble, perhaps after the whistle, and styles Deion-like down field about 20 yards to the delight of fans. The people love to see a big man rumble down field. After practice, speaking to someone who would know, Joe was told the play of the veteran Francis has brought a smile to the faces of the right people in the organization. Francis was the catalyst for the Bucs' interception on Thursday night. And he's showed up steadily in Joe's practice notes, particularly last week.
*Just saw a dude with a creamsicle Josh Freeman jersey. Can't someone help the guy get an upgrade?*
*Ted Nugent's "Stranglehold" fills the air. If the defense plays this season like it did Thursday night, might this be the defense's theme song?
*In red zone, Jameis seems to aim for crossbar to allow someone to go up and get it. No one did.
*Mike Glennon drops back… looking… looking… looking. Rolls left…. looking… looking… looking and dumps short four-yard pass to the Stampeder
*VJax showing why he's a stud today. All kinds of fine catches.
*Jameis to Brate over the middle. Somewhere, ASJ stares into space with his arms folded.
*Jameis rifles a pass about 20 yards to the Stampeder who was surrounding by defenders. Inaccurate? Joe's rear end!
*Bucs go topless in a walkthrough drill to end practice.