"He Doesn't Latch On To A Tackle"
August 25th, 2016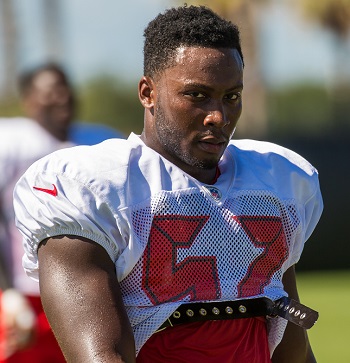 No, rookie Noah Spence didn't wow the football world in his second preseason game like he did in his first. But he still is highly impressive says one former Bucccaneer.
Joe's talking about film guru Anthony Becht, a 12-year veteran of the NFL and a former Bucs tight end who calls college games for ESPN and works for the Buccaneers Radio Network.
Becht hopped on WDAE-AM 620 yesterday and shared his happy scouting report on the Bucs' second-round pick — the one who doesn't kick the ball.
"Everything you've seen on film and everything he's done has been promising," Becht said of Spence. "He's got a great motor. Obviously, from a pass rush standpoint, he's got a tremendous skill set. The run game is a work in progress, but he still fights and tries to be good at it and wants to be good at. That'll be something he'll be tested in.

"As far as getting to a quarterback, you got to love his activity, hands, arm movement. I've said it before, he doesn't latch on to a tackle. He's always constantly keeping his body in a separation where, you know, he's got the advantage and not the tackle.

"That's hard to teach sometimes. He came in with that skill. Now, [defensive line] Coach Hayes is just kind of sharpening the tools in the shed here."
Joe surely will keep a watchful eye on Spence against the Browns on Friday. However, Joe's not sure there will be a ton to judge.
Pro Bowl Browns left tackle Joe Thomas is not expected to play. Cleveland has been keeping him in bubble wrap this summer.