"We Don't Ever Get To Work On That Play In Practice"
August 21st, 2016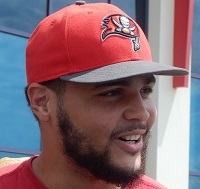 Interesting insight from Dirk Koetter on Tampa Bay's first touchdown last night.
Speaking on the Buccaneers Radio Network after the game, Koetter said the Mike Evans-America's Quarterback connection to the back of the end zone along the right sideline was very much about chemistry.
Team usually roll safety coverage toward Evans in the red zone or they flat out double cover him, Koetter explained. That even happens in practice. But the Jags didn't do that.
"It was a good read by Jameis. We don't ever get to work on that play in practice," Koetter said. "Like I said, we never get that look. So good read and good execution and really nice play by Mike."
Yes, it was classic Mike Evans, as Joe wrote last night. Body control, adjustment and great feet — and this one even included great hands.