Wednesday Bucs-Browns Notes & Observations
August 24th, 2016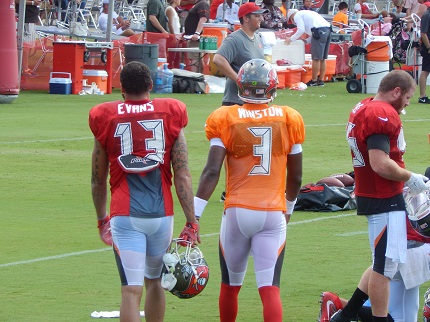 Joe can't believe it. Training camp practices are over. Today was the last one open to the public, and only a walk-through remains before Preseason Game 3 on Friday night.
Joe's got plenty of your need-to-know, as the Bucs lined up against the Browns for the second consecutive day.
*CHECK the JoeBucsFan.com home page for full stories on Ali Marpet wearing a giant boot and Roberto Aguayo not kicking in practice today, as well as Evan Smith shifting over to right guard and more.
*Joe did a lot of mingling and chatting with all kinds of movers and shakers today during practice, so notes are slightly abbreviated, but still plenty to feast upon. Teams were in "shells," not full pads.
*RGIII moves so well and still throws a pretty ball. He fires right on the sidelines as Browns first-round pick Corey Coleman bodies up fellow rookie Vernon Hargreaves for a catch. Coleman is one sharp-looking prospect.
*RGIII scrambles and sprints left for the sidelines. Kwon Alexander is right with him and doesn't hit him as RGII runs out of bounds. Good control Kwon! (slight sarcasm).s
*Scramble up the gut by RGIII for five yards and a slide. Good coverage work by the Bucs again.
*SACK! Bucs DE hopeful Kourtnei Brown gets through on Josh McCown, but pulls up. No QB hitting today.
*McCown with a deep-middle throw to wide receiver Andrew Hawkins, who stands 5-7. The pass was threaded into heavy traffic and Hey Jude Adjei-Barimah is in visible disbelief that the completion was made.
*Browns tight end Connor Hamlet with sweet touchdown catch at goal line in a gang of Bucs defenders. From McCown.
*On a fake handoff in a spread look, Bucs safety Bradley McDougald gets iso'ed as a corner on a Browns receiver. He recovers to break up RGIII pass in left far corner of end zone.
*Was about to type how Bucs defense is swarming and Terrell Wilson blows through the left side of the Bucs defense.
*Will Gholston jumps offsides at left defensive end to the groans of fans and then, you can hear a Bucs coach holler "C'mon, Will!"
*Music begins playing and both players and fans seem perked up.
*ASJ catches a Jameis pass in the numbers and two or three people clap. Pretty subdued crowd for final open practice. Decent turnout, though.
*Music returns and players seem to have hops all of a sudden.
*7-on-7: America's Quarterback, Jameis Winston, comes out very sharp with completions to Vincent Jackson and Doug Martin, who is back at practice today. Jackson snares a bullet on a seam route over the middle, Martin to the right.
*Brent Grimes with a pass breakup on Coleman.
*Mike Glennon incomplete to Austin Seferian-Jenkins on the right sideline. Rough throw, not much of an effort on the non-catch.
*Linebacker Adarius Glanton is one of the Bucs in the running for a backup job, and his fill-in work today for Daryl Smith was sketchy. He looked slow on three plays: gambling once unsuccessfully to break up a checkdown, and then again too slow on a crossing route to tight end Gary Barnidge, who was wide open, and again on a pass from McCown to tight end Randall Telfer.
*Nobody open yet again for RGIII. Coaches just blow play dead. More good stuff from the Bucs' defense.
*Camp meat alert! Nice breakup by Bucs safety Isaiah Johnson.
*STUFF! Lavonte David stuffs running back Isaiah Crowell.
*Touchdown! Jameis to Doug Martin in 7-on-7. Laser from No. 3. Martin shook someone and got wide open to the left. Martin, who didn't practice Tuesday, had a lot of extra zip in his legs.
*KWON! Stoud breakup in red zone work covering Barnidge in the back of the end zone. Pass from RGIII.
*Glennon to The Stampeder over the middle wide open for short TD. Quick release by Glennon.
*Seth DeValve making some nice catches for Browns on less than accurate throws.
*Joe Haden picks Jameis. Looked like a bit of an overthrow toward the right side in a two-minute drill in the red zone.
*Bucs defense looks very sharp… or it is just the Browns?
*Jameis to ASJ short to right sideline.
*RGIII overthrows Jacobs Field.
*Fans are trying to breathe life into a very lethargic practice session. It's dead out here. Zero juice.
*Another would-have-been sack on Stewart McClown. Coverage + pressure = good results. #GetOffFieldOnThirdDown
*Phil Simms was in the house. He will be calling Friday's Bucs-Browns game for CBS. Simms spent a lot of time watching Jameis, whose game film absolutely floored Simms in a good way.