Aguayo Will Not Be Cut (In 2016)
August 24th, 2016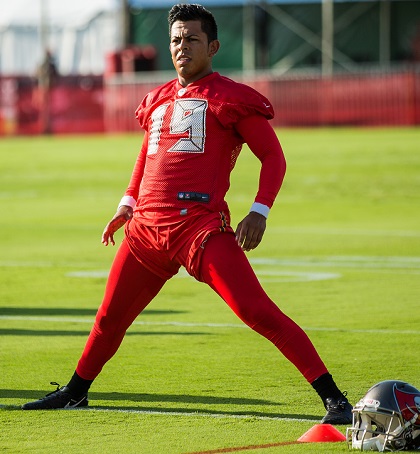 Joe is stunned by the freakout of Bucs fans over the recent struggles of rookie kicker Roberto Aguayo.
Yes, it was sad yesterday hearing the warchant and boos when Aguayo missed a kick, and a stinging Bronx-cheer-like standing-O when he made kicks.
It just tells Joe how much of an unpopular pick Aguayo was this spring. His struggles have roused the nutjobs, like the local radio @sswipe of an executive who erected billboards around town to run off former commander Greg Schiano. When the losses began to pile up, the lunatic fringe was unleashed. (Joe hopes that radio dirtbag is selling used cars in Paris, Ill. right now.)
(And stop with this screed saying Joe shouldn't report what is seen and heard! If Aguayo is so mentally fragile he can't handle freaks at an open practice, then how the hell is he going to hold up in a road game at New Orleans or Kansas City?)
The craziest thing Joe has heard — and heard it a lot — is that the Bucs should move on from Aguayo. Already if you can imagine! Calm the freak down! That is about as ludicrous and ridiculous of a notion that Joe can think of.
Aguayo has a two-year guaranteed contract. There is way too much invested in him, both financial and draft picks. There is just no way Aguayo is going to be cut. Nor should he.
As Joe pointed out yesterday, highly drafted kickers have had struggles as young NFL players.
No, Aguayo should not be cut. Nor will he be.