Vincent Jackson And The "Bang 8"
July 17th, 2016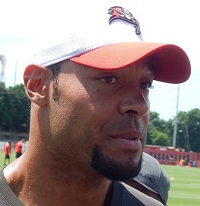 A little history lesson here of particular interest to Vincent Jackson fans.
The Star-Tribune in Minnesota took a deep look inside Norv Turner's evolving offense and got into a discussion of Turner's "Bang 8" route, a go-to play to Michael Irvin with the Cowboys years ago, and later to Vincent Jackson in San Diego. But now, routes sending wide receivers over the middle of the field have become unpopular with league playcallers. The full story is linked here,
Post routes have been utilized less and less throughout the league, though, over the past couple of decades. Last season, only one of every 20 throws in the NFL was to a receiver running a post, according to Pro Football Focus. The Arizona Cardinals — with big, Minnesota-bred wideouts in Larry Fitzgerald and Michael Floyd — threw the most with 68, an average of one post in every eight throws.

"Arizona has success with it with their big receivers. They do a great job with formations to get the route run," Turner said, adding, "It's still a good play."

Then why has the Bang 8 become such a seldom-used passing play?

Irvin theorized that today's receivers simply aren't courageous enough to regularly venture over the middle, a boast that made Turner chuckle when it was relayed to him a couple of days later. Turner instead pointed to modern defenses straying away from simple coverages that have a single deep safety.

Greg Cosell, the senior producer at NFL Films and noted game-tape junkie, respectfully disagreed, chalking it up to a shift in quarterback play. The Bang 8 route is predominantly thrown with the quarterback under center because of the precise timing required to complete the throw — step, step, step, step, step, then, bang, the ball is out. But most NFL offenses, morphing toward the spread attacks used at the high school and college levels, put the quarterback in the shotgun on more than half of their snaps.
First, it's always fun to see three different NFL experts disagree on the same point. And you wonder why Joe distrusts the PFF Tribe, who employs film watchers with little or no football experience.
Second, this story further illustrates why Jackson is a massive key to this Bucs season. He can run a post route successfully and fully complement Mike Evans. Hell, V-Jax can operate efficiently in the slot, if he must. Without V-Jax, the Bucs are a deficient offense that's much easier to defend, as evidenced last year when V-Jax missed half the season with knee injuries.