Training Camp Day 2 Notes & Observations
July 29th, 2016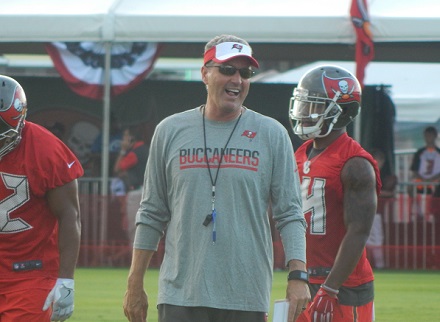 Your beloved Bucs were back on the field this morning — under steady cloud cover — getting in their underwear football work before league rules allow pads at Sunday's practice. Joe's got your need-to-know AND video of the catch of the day.
*Mike Evans catches the first ball thrown to him in the end zone during a drill more designed to have QBs throwing on the run. Great start to the day. Mike Glennon to former USF wide receiver Andre Davis. Nice throw in this drill.
*Cool: a retired naval officer who lives in Pensacola came down to partake in Military Day at Bucs training camp.
*Wide receivers coach/offensive coordinator Todd Monken is all jacked up with his receiving corps, sweating and yelling in the first 10 minutes.
*Jimi Hendrix's "All Along the Watchtower" fills the air behind One Buc Palace.
*Route drills kick off. Mike Glennon overthrows Luke Stocker badly. Looked like Glennon forgot the route.
*America's Quarterback, Jameis Winston, fires to Cameron Brate. Sharp! Two plays later, Jameis to Brate again. Extra sharp! There's just something unspoken between those two.
*Nice connection Glennon with Danny Vitale
*Camp meat alert. Back to back sloppy incompletions. Tight ends Kivon Cartwright and Alan Cross on the ugly end of those.
*DROP! Danny Vitale.
*New Bucs receiver Jonathan Krause, who has a Super Bowl ring, gets extra love from Monken during a route drill.
*DROP! Jameis to V-Jax.
*Glennon to Davis. Standout diving/rolling catch on a very low throw.
*Drill sees the catch of the day. A one-hand grab from Adam Humphries on a deep thrown from Glennon. (VIDEO BELOW)
*11-on-11 begins.
*Kevin Pamphile is back with the first team at left guard. J.R. Sweezy on floppy hat duty.
*Your first-team cornerbacks are Alterraun Verner and Brent Grimes. First-team safeties are Bradley McDougald and Chris Conte. First nickel corner in is Jude Adjei-Barimah.
*Doug Martin on screen pass from Jameis does a nice stop-and-start in left flat to lose defenders, including Hey Jude.
*Perfect pass by Jameis to Cameron Brate on a crossing pattern.
*DROP! The misplaced Calgary Stampeder on a short pass from Jameis.
*Motley Crue seems to have Bucs motivated.
*If underwear football is any indication, you will see Jameis using a lot of quick rollouts come September.
*Glennon throws behind Evans Spencer. Inc. The pair comes back quickly for a sharp connection.
*Major eye-opener, Brent Grimes is covering Russell Shepard on a deep ball from Jameis and Grimes elevates in a hurry for the breakup. Great indication of his extreme athleticism. Lots of oohs and ahhs around Joe. Grimes transformed from a 5-7 cornerback into a 6-2 corner in a hurry.
*DROP! Kenny Bell on a quick slant from Jameis.
*In 7-on-7 work, Jameis hits Mike Evans twice in a row on a slant route. Second pass was Jameis' second read. Great feel there. Jameis follows compete to Tevin Westbrook. But on the next play. OUCH! No. 1 tight end Cameron Brate drops a gimmie.
*Jameis over the middle to Shepard.
*Rookie linebacker Devante Bond flashes. He was all over Brate, but Brate found a way to snare the ball from Glennon.
*Glennon with a laser to Donteea Dye (aka The Stampeder), who made a nice adjustment on the ball and hauled it in with traffic around. DROP! by Dye on the next play.
*PICK! Jameis launches a deep pass down right sideline but short. Easy pick for Brent Grimes. Intended for The Stampeder.
*Mike Evans catches nondescript pass over middle from Jameis but pulls a Greg Schiano/Doug Martin biting the football and continuing to run toward the end zone after the whistle.
*Bucs add red, white and blue bunting to the bleachers for Military Day at training camp. Bravo for having the cheerleaders wearing their military colors complete with the shorty shorts. Joe salutes this maneuver.
*Adam Humphries put a serious double-move on Johnthan Banks where it looked like Banks was shoes full of cement. Humphries blew past him on the right side and was wide open but Keith Tandy flew in to break up pass.
*Jameis showing some nibble feet and rolls left hitting The Stampeder in space in the left flat.
*V-Jax runs a very interesting inside route, not a slant, quick connection with Jameis. Joe yearns for video tape on that one.