No More "Stepchild" Says Clinton McDonald
July 21st, 2016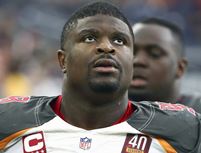 Optimism reigns this time of year for all NFL teams, but it's a very different kind of vibe in Tampa.
The Bucs officially have finished in last place for the past five seasons, a feat unique since the NFL-AFL merger many generations ago.
Defensive tackle Clinton McDonald is acutely aware of this phenomenon. He's been with the Bucs for two seasons after being a key piece to Seattle's Super Bowl victory in February 2014.
McDonald joined host Wess Moore of Fox Sports Radio Arkansas yesterday and was asked whether he sees similarities between the 2016 Bucs and those 2013 Seahawks.
"I mean, you can always notice talent on all 32 teams. It's always talent out there. Talent in the NFL is kind of evenly distributed," McDonald said. "But one thing I've noticed is the attitude of getting tired of losing, getting tired of being last and being kind of like a stepchild in the South Division in the NFC. So we're getting together collectively as a unit and saying, 'You know, we're tired of being in last place. We're tired of being the pushover. It's time for us to make our mark and to take our step in order for us to be a competitor and eventually [earn] a championship in this division.'"
Yes, the Bucs needed an attitude overhaul.
America's Quarterback, Jameis Winston, said it best during his press conference after last season's finale. If you forgot his telling and emotional outburst, here's the link. Grab a cold one and enjoy.