Who Else Values Will Gholston?
June 17th, 2016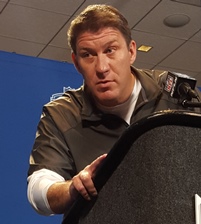 If Joe had to vote for a Buccaneer most likely to nail a giant payday in free agency next offseason, defensive end Will Gholston would get the nod easily.
Vincent Jackson and Mike Glennon would earn honorable mentions.
Jackson and Glennon have a lot to prove in 2015, however, but Gholston may not.
That may seem crazy, but Gholston is a giant (6-6, 285) active, physical and versatile defense end. He turns 25 next month, and he is a renowned run stuffer. Look around, those kinds of players get paid big time in today's NFL.
Adding more fuel to the fire is recent praise of Gholston's work by Bucs' veteran free agent DE Robert Ayers, who is a candid speaker. Dirk Koetter also weighed in this week, explaining Gholston may be under the media's radar, but it's clear what Gholston offers.
"The style of play that Will Gholston has is not conducive to playing underwear football because Will's a grinder. I mean, Will is an 'in-the-trenches, beat-you-up' defensive end, so guys that are going to show up in underwear football are speed and quickness guys, flashy guys," Koetter said.

"To win football games in the NFL you have to have grind-it guys, and I've been telling our defensive coaches all along, from my own experience with Will last year watching it is, Will is one of those grinders. He's an in the trenches, every down, he's going to give you what he has guy. And I think for Robert Ayers to say that, that just shows Robert's experience in the league, that he can appreciate a guy that's a grinder like Will is. We're fortunate to have Will. Will is one of those guys that not everybody – again because he's not a flashy guy – not everybody appreciates what he does in the trenches, but we sure appreciate it."
Joe's written many times that Gholston may be the toughest DE matchup in the NFL when it comes to run blocking. No tight end can block Gholston, and that affects offenses. It's a big reason the Bucs were one of the league's best against the run last season.
Joe assumes Bucs general manager Jason Licht could lock up Gholston to a reasonable long-term contract this summer, but that's highly doubtful to happen. Gholston simply hasn't done enough to earn that investment. Joe would prefer he prove himself for one more season.
Plus, if Noah Spence is the real deal and Jacquies Smith racks up sacks for the third consecutive season, then a big investment in Gholston now would be misguided in a passing league.