Scouting Report: Blitz Mariota, Not Jameis
June 8th, 2016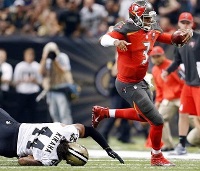 Joe touched on this topic recently, but here's more data and a breakdown from a renowned personnel guru and ex-Jets linebackers coach.
Pat Kirwan is seen below on RealFootballNetwork.com video talking about quarterbacks who fare well against the blitz. The breakdown looks specifically at how many times the QB is sacked when blitzed. Third-best in the NFL is America's Quarterback, Jameis Winston. Worst last year was coach killer Marcus Mariota and Russell Wilson.
The presence of Wilson surprised Joe. It's interesting the Bucs now have the Seahawks' starting right guard, who will be asked to play the left side in Tampa. Wilson, however, threw the most touchdown passes per blitz.
Enjoy.